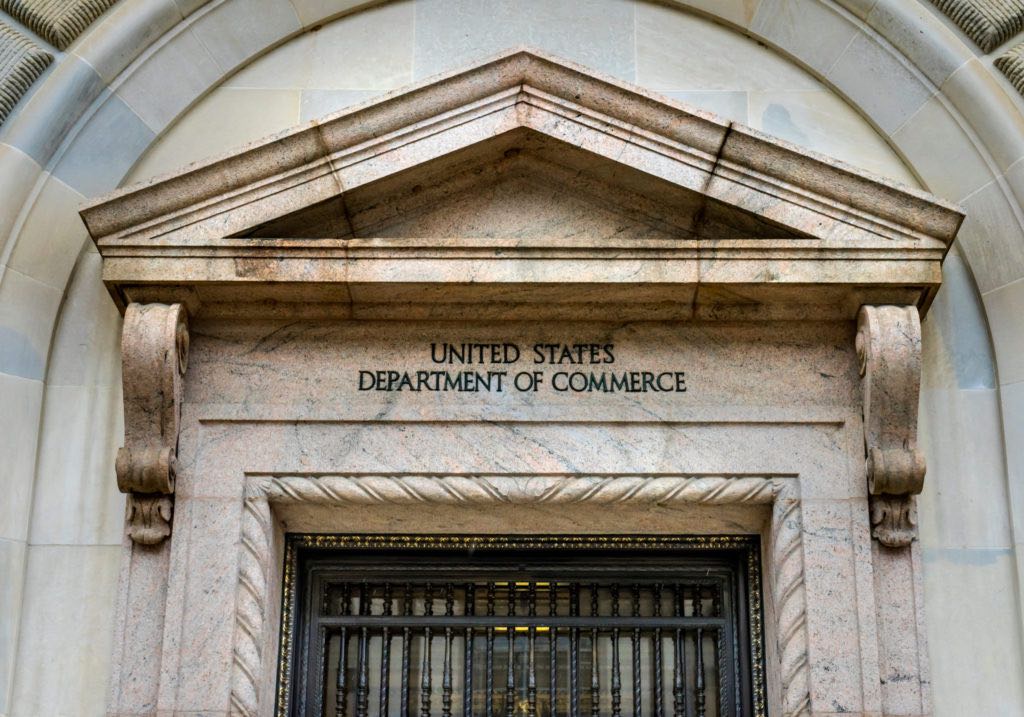 Biden-Harris Administration Launches First CHIPS for America Funding Opportunity
Biden-Harris Administration Launches First CHIPS for America Funding Opportunity
ASowah@doc.gov
Tue, 02/28/2023 – 08:51
FOR IMMEDIATE RELEASE
Tuesday, February 28, 2023
Office of Public Affairs
publicaffairs@doc.gov
As part of Implementing the Bipartisan CHIPS and Science Act, Department of Commerce Seeks Applications to Revitalize Domestic Semiconductor Industry and Bring Supply Chains Back to the U.S.
The Biden-Harris Administration through the U.S. Department of Commerce's National Institute of Standards and Technology today launched the first CHIPS for America funding opportunity for manufacturing incentives to restore U.S. leadership in semiconductor manufacturing, support good-paying jobs across the semiconductor supply chain, and advance U.S. economic and national security.  
As part of the bipartisan CHIPS and Science Act, the Department of Commerce is overseeing $50 billion to revitalize the U.S. semiconductor industry, including $39 billion in semiconductor incentives. The first funding opportunity seeks applications for projects to construct, expand, or modernize commercial facilities for the production of leading-edge, current-generation, and mature-node semiconductors. This includes both front-end wafer fabrication and back-end packaging. The Department will also be releasing a funding opportunity for semiconductor materials and equipment facilities in the late spring, and one for research and development facilities in the fall. 
"The CHIPS and Science Act presents a historic opportunity to unleash the next generation of American innovation, protect our national security, and preserve our global economic competitiveness," said Secretary of Commerce Gina M. Raimondo. "When we have finished implementing CHIPS for America, we will be the premier destination in the world where new leading-edge chip architectures can be invented in our research labs, designed for every end-use application, manufactured at scale and packaged with the most advanced technologies. Throughout our work, we are committed to protecting taxpayer dollars, strengthening America's workforce and giving America's businesses a platform to do what they do best: innovate, scale and compete."  
The CHIPS and Science Act is part of President Biden's economic plan to invest in America, stimulating private sector investment, creating good-paying jobs, making more in the United States, and revitalizing communities left behind.  
CHIPS for America also today released a "Vision for Success," laying out strategic objectives building on the vision Secretary Raimondo shared in her speech last week at Georgetown University's School of Foreign Service. To advance U.S. economic and national security, the Department aims to reach the following goals by the end of the decade: (1) make the U.S. home to at least two, new large-scale clusters of leading-edge logic chip fabs, (2) make the U.S. home to multiple, high-volume advanced packaging facilities, (3) produce high-volume leading-edge memory chips, and (4) increase production capacity for current-generation and mature-node chips, especially for critical domestic industries. Read more about these goals in the Vision for Success paper here.
The first funding opportunity details the application process and outlines how the Department will evaluate applications, including a primary focus on how projects advance U.S. economic and national security. Applications will also be evaluated for commercial viability, financial strength, technical feasibility and readiness, workforce development, and efforts to spur inclusive economic growth. Starting today, the Department strongly encourages all potential applicants, including those for future funding opportunities, to submit statements of interest so it may gauge interest across the semiconductor ecosystem and begin preparing for application review. Read more about the application and evaluation process here.  
Awards will take the form of direct funding, federal loans, and/or federal guarantees of third-party loans. Awards are designed to complement—not replace—private investment and other sources of funding, and applicants are strongly encouraged to bring capital to the table. CHIPS for America awards will be made as soon as applications can be rigorously evaluated and negotiated. 
Applicants are also encouraged to claim the Advanced Manufacturing Investment Credit (Investment Tax Credit) administered by the U.S. Department of the Treasury and the Internal Revenue Service. The Investment Tax Credit is a federal income tax credit for qualifying investments in facilities manufacturing semiconductors or semiconductor manufacturing equipment and a critical component of the suite of incentives provided by the CHIPS and Science Act. The Department of Commerce and the Department of the Treasury are coordinating closely on CHIPS funding and the Investment Tax Credit to ensure these incentives work together to further the Administration's economic and national security goals. The Department of the Treasury expects to publish guidance on the Investment Tax Credit in March, in addition with forthcoming Department of Commerce guidance on national security guardrails.  
Key priorities that will guide the CHIPS for America program include:  
Catalyzing Private Investment: CHIPS for America aims to spur private capital and investment, not replace it. CHIPS for America seeks to attract significant private capital and to create viable, scaled projects that advance U.S. economic and national security. The Department also encourages applicants to create ecosystems of suppliers, customers, and workforce training organizations that will make investments self-sustaining. Read more here.  
Protecting Taxpayer Dollars: CHIPS for America will be good stewards of taxpayer dollars, using safeguards to ensure that companies receiving funding hold up their end of the bargain. The Department will conduct extensive due diligence to ensure it provides the minimum amount necessary to incentivize investment. In addition, the Department will evaluate applications based on the extent of the applicant's commitments to refrain from stock buybacks, and it will require recipients of more than $150 million in direct funding to share with the U.S. government a portion of any cash flows or returns that exceed the applicant's projections above an established threshold. Awards will be disbursed over time and tied to applicants meeting agreed-upon commitments and milestones. Read more here. 
Building a Skilled and Diverse Workforce: Recruiting, training, and retaining a large, skilled, and diverse workforce will be critical to strengthening the U.S. semiconductor ecosystem. Companies seeking CHIPS funding will be required to submit workforce development plans for the workers who will operate their facilities and the workers who will build them, including plans to meet the Department of Commerce's and the Department of Labor's Good Jobs Principles. Applicants requesting over $150 million in direct funding must also submit plans to provide both their facility and construction workers with access to affordable, accessible, reliable, and high-quality child care. In addition, applicants are strongly encouraged to use project labor agreements for construction projects. Read more here.  
Engaging with U.S. Partners and Allies: The Department will coordinate with international allies and partners to support a healthy global semiconductor ecosystem that drives innovation and is resilient to a range of disruptions, from cybersecurity threats to natural disasters and pandemics. This includes coordinating government incentive programs, building resilient cross-border semiconductor supply chains, promoting knowledge exchange and collaboration on future technologies, and implementing safeguards to protect national security. Read more here.  
Driving Economic Opportunity and Inclusive Economic Growth: CHIPS for America is committed to building strong communities that share the prosperity of the semiconductor industry. The Department will look at whether applicants commit to future investments in the U.S. semiconductor industry, support R&D programs, and create opportunities for minority-owned, veteran-owned, women-owned, and small businesses. Applicants will also be assessed based on whether they demonstrate environmental responsibility and invest in their community. Read more here.  
Read more about CHIPS for America and the first funding opportunity: 
Secretary Raimondo's CHIPS for America Speech 
Vision for Success Paper 
Application Process and Evaluation Fact Sheet 
Private Investment Fact Sheet 
Taxpayer Protection Fact Sheet 
Workforce Development Fact Sheet  
International Engagement Fact Sheet 
Economic Opportunity Fact Sheet 
CHIPS for America includes the CHIPS Program Office, responsible for manufacturing incentives, and the CHIPS Research and Development Office, responsible for the R&D programs, that both sit within the National Institute of Standards and Technology (NIST) at the Department of Commerce. NIST promotes U.S. innovation and industrial competitiveness by advancing measurement science, standards, and technology in ways that enhance economic security and improve our quality of life. NIST is uniquely positioned to successfully administer the CHIPS for America program because of the bureau's strong relationships with U.S. industries, its deep understanding of the semiconductor ecosystem, and its reputation as fair and trusted. Visit https://www.chips.gov to learn more.
Bureaus and Offices
National Institute of Standards and Technology
Tags
CHIPS Act
CHIPS for America
Read the full report from the U.S. Department of Commerce: Read More